-Cynthia Robinson-
Jerry Martini, (aka "Papa J") founding member and saxophone player of Sly & the Family Stone's "Dynamic Duo" horn section, was inducted into the "Rock and Roll Hall of Fame", January 12, 1993.

He and Cynthia Robinson, trumpet player (second half of the Dynamic Duo) , backed Sly from 1966 to 1976 on such classics as "Everyday People" and "Stand!"

In 1966, Jerry convinced Sly Stone to put a band together and this began what Jerry refers to as an "invaluable and unforgettable musical experience".

While cultivating and developing RUBICON , a vibrant, high-energy, seven-man band with an unmatched musical versatility, Jerry along with the other RUBICON horn players Max Haskett and Dennis Marcellino , has added his unique horn style to several recording sessions including Graham Central Station's recent hit album " Now Do You Wanna Dance".

On the 26th. of May 1997, Jerry and Cynthia flew to Aruba joining two other Sly members Rose Stone and Larry Graham's Graham Central Station to play in Sinbad's "Summer Soul Festival".

In August 1997, Jerry, Cynthia, and Larry teamed with "The Artist Formerly Known As Prince" and continued until 2000, ending with the "Rave into 2000" Pay-Per-View TV special.

In 2001 Sly and the Family Stone recieved the "Pioneer Award" given by the R&B Foundation at the Apollo Theater in New York.

LIFE! - First Family of Funk ... Rock and Roll Hall of Fame Inductees and founding members of Sly and The Family Stone Greg Errico, Cynthia Robinson and Jerry Martin will bring to the stage a colorful and explosive set of signature songs.

Cynthia and Jerry recorded with Robert Cray on his new CD and continue to play with other artists such as Twanna Turner and her band Blutopia.


Sly and the Family Stone 1966-1976
Founding member of Sly and the Family Stone
Horn arrangements and Saxophone player.
Gold Records &amp Albums 1968-1993
1968..."Dance to the Music" album and single.
1969..."Stand" album "Everyday People" and "Stand" singles
1969..."Woodstock Live"- "Thank you Falletinme Be Mice Elf" single
1970..."Greatest Hits" album "Hot Fun in the Summertime" single
1971..."Life" album "You Can Make It If You Try" single
1971..."Isle of Wight" soundtrack "I Want to Take You Higher" single
1974..."Small Talk" and "Family Affair" singles
1981..."Anthology" album
Platinum Albums
1969..."Stand"
1971...Greatest Hits"
Double and Triple Platinum Albums
1969..."Woodstock Live"
1993..."Greatest Hits"
Other Significant Albums and Recordings
Mike Bloomfield album...1978
Wrote "One with the Sun" song on Santana's "Babolatta" album
Three Graham Central Station albums
Rolling Stone Bill Wyman's solo album ; "Stone Alone"
Numerous recording sessions for Motown, CBS, Warner Bros., and Electra
Major Concerts
"Sold Out" Madison Square Garden a record 14 times !
Woodstock
Olympia Theater in Paris... twice
Spectrum in Philadelphia...10 times
Three European tours (including Jimi Hedrix's final tour 1971)
Every other major concert hall in the U.S. (too numerous to mention)
Television Appearances
"The Ed Sullivan Show"...twice in 1969
"The Smothers Brothers"
"The Midnight Special"
"The Dick Clark Show"
"Soul Train"
"American Bandstand"
"Merv Griffin"
"The Today Show"
June 2004-June 2004-Redwood Run-Piercy, Ca.-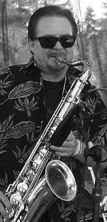 "AIN'T NO SQUARES HERE"

What can I say about such an important part of Rock and Roll history?

The circumstances leading up to (or actually causing) our meeting Jerry, are just short of miraculous.

Brian (my bass player/husband) had to replace a faulty speaker cable. Local music store owner Brad, informed Brian that members of The Family Stone and Graham Central Station would be rehearsing there that night. It was further discovered that Jerry Martini and Cynthia Robinson lived close to where we would be playing later that week.

Brad advised Brian to leave a business card and he would give it to Jerry, with the hopes that something would happen.

Well something did!! Jerry called me the next day. We came up with a game plan, worked out the details, and Jerry showed up at our gig! ...with his sax! Jerry joined us with his lovely lady "Marie" and her sweet mother.

He then stepped up with us and played a shuffle, then "Stormy Monday". The band and I could hold back no longer. We broke into "Dance to the Music" then "Higher".

When Jerry played those first four signature notes of "DanceTo The Music", I got goose bumps! I looked over at Brian and he too looked as how I felt! So did everyone else in the band.

Needless to say, I am so very honored and priviledged that Jerry is now playing with us (and I do mean play). Jerry is a kindred spirit and plays for the love of music, as do we. You can hear and feel Jerry's enthusiasm for music,... as do we. .....It is my pleasure to present to you...
Jerry Martini