-Farley Glenn-
Brian started playing bass as a teenager and was soon playing with local talents at night clubs and events in his native north S.F. bay area.

After serving in the U.S. Navy, Brian went back to playing bass. Brian along with long-time friends and collaborators Glen Nichols and Frank Cox, formed the Blues/Rock group "No XQS".

While playing at a local night-spot Brian met Twanna and soon after Twanna joined the group. Brian and Twanna have been performing and recording together ever since.

In 1999 Brian took on bass duties with the group "My Brother's Band" on their record "Part of the Process" also singing lead on the song "Without You".

Brian enjoys traveling and playing with various groups, but he loves performing with Twanna most of all.
May 24, 2006 Napa Ca.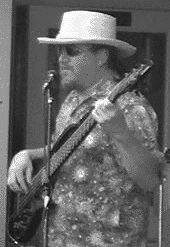 "THE BOTTOM END IS THE SOUL OF ANY SONG."

I am living proof that music can heal the body, after suffering a stroke in 2001 I lost a significant amount of control and strength of the right side of my body.

I would have given up right then but for the grace of my Lord and the diligent efforts of Twanna to keep me re-training my right hand dexterity and strength.

Most of that training came in the form of playing music. I had to start out easy and with the patience of Twanna and my fellow bandmates I was soon back to full form.

..Now singing

is a different story, I still sound like a drunk sailor on shore leave but, I've always sounded like that. lol

To hear some of that "drunken sailor" singing, click here to visit my Myspace page.